Dyestuff index Code:
C.I.Pigment Blue 15:3(74160,β)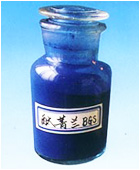 Molecular formula:
C32H16N8Cu
Structure:
CuPc-Steady style
Description:
Blue crystalline power, favourable color, good in tinction, with character of sunnying and heatbility, insoluble in acid alkalies and silvent.
Quality Norm:
Index the standard of Q/SS03-2002
Specification:
Color Light( comparied with standard sample)
Dye-up take %( in accordane with standard sample)
Residne(passing through 100 mesh)%
Used:
Used for coloring of printing ink, plastics, rubber, paint, satinery and paint printed pulp. things of culture & education.
Package:
In 20kg iron drum, cardboard drum or paper-polythene mixed bag.