Dyestuff index Code:
C.I.Pigment Blue 15(74160)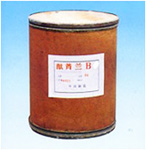 Molecular formula:
It is blue power. It's olive green in concentrated sulphuric acid.
Quality Norm:
Index the standard of Q/SS03-2002
Specification:
Color Light
Similar to standard product
Used:
It is widely used in coloring of paints, printing ink, plastics and synthetic fiber oringinal liquid of culture & education.
Package:
In 20kg iron drum. cardboard drum or paper pocythene mixedbag.